We are a community that believes in having a transformative influence for God's kingdom on this world. We want to make a lasting IMPACT! Check out all the opportunities that your child can get involved with and make a difference!
Some of the opportunities are ongoing and some are just for one time or seasonal:
Always keep checking back for updated opportunities or contact us for specific requests!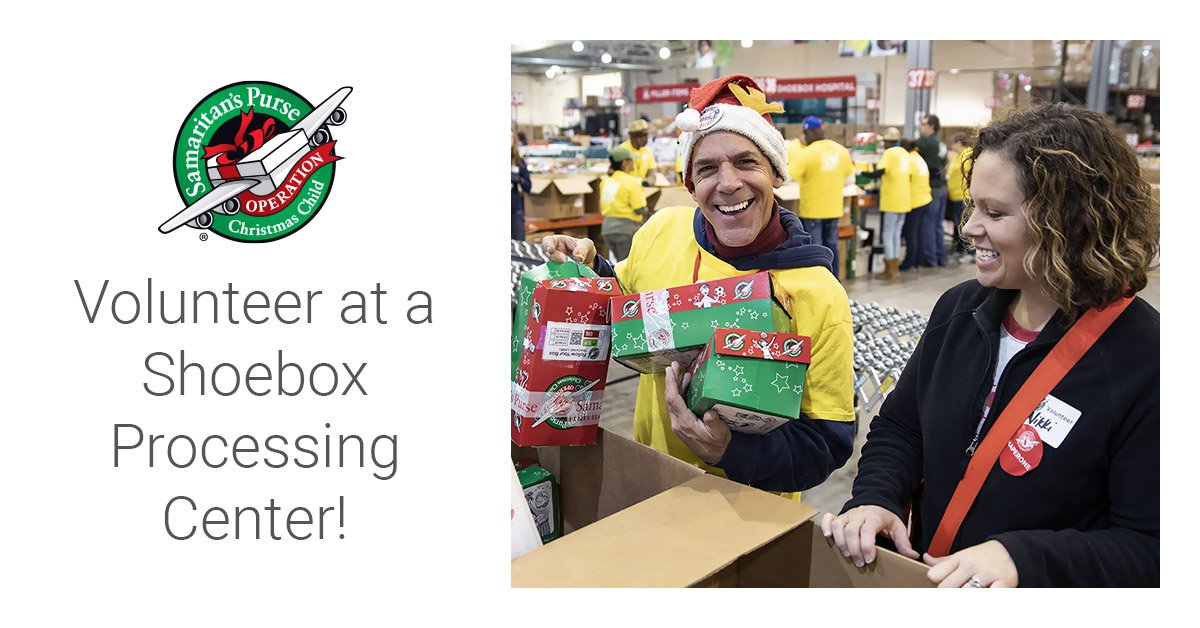 On saturday, december 11th from 1:00-5:00pm
This year we will also be volunteering at an Operation Christmas Child Processing Center to process all the donations that will go to many kids around the world to brighten their Christmas and share God's love.
So we want to invite all students that are 13 years old and adults to join us! The number of volunteers is limited, so make sure to sign up now to reserve your spot. The plan is to carpool from our church.
Before the millions of shoebox gifts collected each year can bring hope and joy to children around the world, each one has to be carefully inspected and made ready for international shipment by volunteers like you. Tens of thousands of volunteers serve annually at eight shoebox processing centers across the United States after National Collection Week (the third week of November) and into December. Whether you're interested in serving as an individual or with a group of any size, sign up now to have a direct part in blessing children overseas with the Gospel of Jesus Christ!
Where?
Processing Center Location:
Aurora Illinois
800 N. Commerce St.
Aurora IL 60504
What time?
Our slot is from 1:00pm to 5:00pm with breaks in between. We plan to meet to carpool from our church parking lot (429 Brainerd Ave) at 11:45am or you can get yourself to the location by 1pm.
Who can volunteer?
Anybody who is at least 13 or older. Parents and siblings are more than welcome to join us.
What are the Covid protocols?
https://www.samaritanspurse.org/operation-christmas-child/covid-19/#process
YOUTH BAND
If you enjoy music, know how to play an instrument or sing and are passionate about worship, you definitely need to join the Youth Band to serve leading people in congregational singing!
Contact Gonzo, gonzalo.santillan@umcl.org
TECH & MEDIA
If you like tech or are interested in event production elements, you should consider serving in the tech team at Youth Group or during our church main service! You don't need experience, you just need a desire to learn!
Manage the soundboard, slides, and band set up. Control the lights and be behind the scenes on the production side of the different services at UMCL.
Right now you could be part of helping put on the online services!
Contact Eugene Cha, eugene.cha@umcl.org
CHILDREN'S MINISTRY
Do you enjoy working with children to help them learn about God's love? Volunteer with the Children's Ministry and help in the Sunday school classroom, create a fun atmosphere at events like the Easter Party or VBS and make an impact in the lives of the little ones!
.
Contact Annemarie Barry, annemarie.barry@umcl.org
Special Music or Special Performance
Participate in performing a special number for a Sunday service like playing an instrument, singing a song, reciting a poem, performing a skit etc. We love creative performances to worship God.
Contact Andrea West adwest5@yahoo.com
WELCOME TEAM
A great welcome, mostly during these times is much appreciate, that's why we have a great team that makes sure people that come to church feel welcome, know where to go and follow the different guidelines to stay safe.
Join Joyce and be part of the Welcome team.
Contact Joyce Bedell, Joyce.bedell@umcl.org
HELPING HANDS
Our furniture moving, storing, and donating team. Helping hands provides some love and muscle to help move furniture for those who need assistance. A beautiful new partnership with Love INC of Lake County is just now beginning too!
Contact Tom Plohr for more info: Tom Plohr tplohr@comcast.net
WHEELS OF HOPE
Like uber, but free and friendly
Do you or someone you know need rides periodically to the grocery store, doctors office, or to pick up prescriptions? We can help arrange that! We have gathered a few folks who are willing to help offer periodic transportation if you need it.
Contact John McNally, johnmcnally0901@gmail.com
contact gonzo for more details or questions: gonzalo.santillan@umcl.org